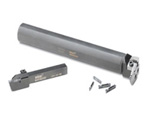 Paul & Company being a well known distributor of WIDIA Products deals in wide range of high performance indexable inserts with suitable grades, tool holders, boring bars & cartridges. Paul & Company also keep a good range of WIDIA Grooving, Cut-Off & Threading holders & inserts. Availability of spares for all kind of tool holders is our specialty.
You will find Carbide & as well as PCD ( Diamond) inserts for ALUMINIUM MACHINING available ex-stock.
Paul & Company can help you in providing CARBIDE, CERAMIC, COATED CERAMIC OR CBN inserts for HARD PART MACHINING.
OD/ID Holders
Inserts
Threading