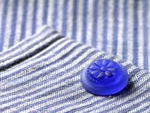 Paul & Company is very much aware of the needs of polyester button manufacturers in case of Carbide tips & D.G. Wheels.
Paul & Company always have in stock carbide tips for all leigns required by polyester button industries. These carbide tips manufactured by WIDIA not only gives a better finish but also longer tool life.
Less regrinding of C.Tips due to good grades of carbide saves a lot of production time & diamond grinding wheel cost.
We, Paul & Company, keep in stock very good quality of diamond grinding wheels required for TOOl GRINDING, TOOL MAKING OR NEEDLE GRINDING for all type of machines.
Whatever type of wheel for tool making is required will be available with us ex-stock.