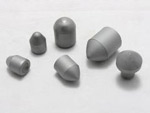 Steel rolling mills & G.I. Pipe Manufacturing units in INDIA require a lot of Carbide Tips which are always available with Paul & Company with all kind of shapes like V-shape, U-shape, half round, L.H. & R.H. Straight one etc in all sizes.
All sizes of carbide tips in TTR & TH05 grades are available for G.I. Pipe Industries.
The quality of WIDIA carbide tips is well known & appreciated by end users.
Any size of round plug required by steel rolling mills can be made available with in 2-3 days after dually making size as per requirement.
WE SELL ONLY WIDIA BRAND ROUND PLUGS