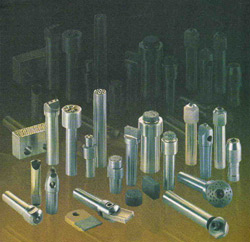 Avail from PAUL & COMPANY a distinctive range of diamond dressers which includes Single Point, shaping tool ( chisel type),cluster type, disc type, crown multipoint, diamond grit type & blade type dressers.
These diamond dressers are good for exposing a new sharp cutting layer on silicon carbide & aluminum oxide wheels after dressing & true the wheel to eliminate run-out and correct geometrical shape.
Paul & Company emphasis on multi point dressing tools because of their economic & technological superiority.