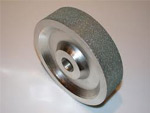 SUPER II RESIN BOND Diamond Grinding Wheels are stocked by us for various shapes & sizes as required by the end users. Tool Manufacturers & Re grinding Industry will find it easy to get required D.G.Wheel from Paul & Company.
Choose a shape & size D.G. Wheel is available with Paul & Company. We can provide you the customized D.G.Wheel in the shortest time period.
Paul & Company is also authorized distributor of EASTERN DIAMOND KOLKATTA FOR their electroplated D.G.Wheels. We keep in stock a lot of E.P. D. G. wheels in stock.